November 1st 1973 saw the beginning of Point Contact Hygienesis with just five products; cleaning liquids that were dubbed, "Five Points To Finer Hygiene".

Due to a policy of always saying 'yes' the product range grew so fast and by April 1974 a selection of machine dishwashing liquids were introduced which were an instant success. These products, with many additions, are still in use today providing excellent economy and results.
We provide a vast range of quality cleaning and hygiene products and much more including free of charge annual COSHH training.
Of course, products alone would not have guaranteed the successes enjoyed over without our commitment to service which has never faltered and still remains at present.

Prompt deliveries, Monday – Friday. Our delivery personnel are DBS checked.
Regular checks on your dishwashing and laundry machine along with our own state of the art dispensing equipment ensures a service truly second to none and is provided as part of our free after sales service with as much or as little time, as necessary, spent with you and your staff to maintain a smooth trouble free operation.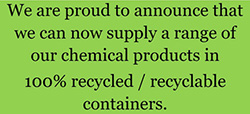 The website illustrates a small selection of our range. If you can't see what you're looking for please call us and we will source it for you.